Board of Education
The Board of Education shall consist of nine members: three members from Brunswick City Schools, two members from Medina City Schools, and one member each from Black River Local, Buckeye Local, Cloverleaf Local and Highland Local. Members of the Career Center Board have experience as chief financial officers, chief executive officers, human resource managers or other business, industry, or career counseling professionals.
The appointing Board is required to select members who represent regional employers and who are qualified to consider the State's workforce needs. The Board members serve three-year terms.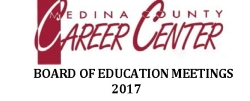 Click on image to view/print meeting schedule
All meetings are held at 7:00 p.m. at the Medina County Career Center Board Conference Room unless otherwise noted.
President
Brunswick City Schools Term expires 12/31/2019
Vice-President
Cloverleaf Local Schools Term expires 12/31/2019
Member
Buckeye Local Schools Term expires 12/31/2019
Member
Medina City Schools Term expires 12/31/2019
Member
Brunswick City Schools Term expires 12/31/2019
Member
Highland Local Schools Term expires 12/31/2019
Member
Brunswick City Schools Term expires 12/31/2019
Member
Medina City Schools Term expires 12/31/2019
Member
Black River Local Schools Term expires 12/31/2019