Diversified Medical Technologies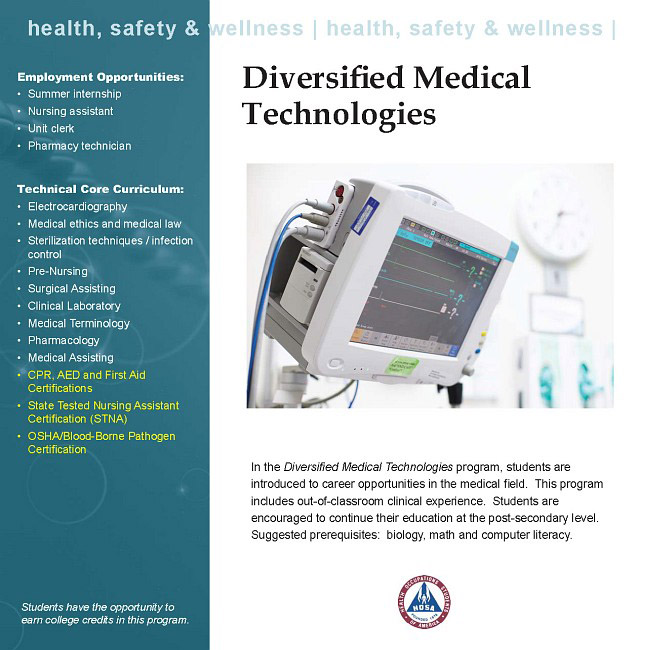 College Credit – Students have the opportunity to earn college credits in this program
Ellie Byrd, Instructor


Extension: 205

Began at MCCC:  1998

Education

Cloverleaf High School
University of Akron:  Bachelor's Degree, Nursing
Kent State University:  Career-Technical Education

Industry Experience


30 years experience as a RN in acute care, home care, and chemical dependency
Experienced in the fields of OB/GYN, Medical Surgery, Orthopedic/Stroke Rehabilitation, Hospice, and Acute Care Detox
Clinical & Laboratory Instructor, Cuyahoga Community College, Associate Degree RN program (4 years).
Top Scholar Inspirational Award, 2014

Certifications

State of Ohio:  Registered Nurse (RN) License
American Heart Association BLS and First Aid Instructor
State of Ohio TCEP Instructor
Ohio Department of Education:

Teaching License
Designated Master Teacher

Interests/Hobbies
Community service, gardening, reading, and water sports
Karen Hritz, Instructor


Extension: 207

Began at MCCC:  2005

Education

Case Western Reserve – Frances Payne Bolton School of Nursing: Master of Science, Nursing
Ursuline College: Bachelor's Degree, Nursing
Kent State University: Career-Technical Education

Industry Experience

Mrs. Hritz professional experience includes working as a staff nurse, charge nurse, registered nurse (RN), clinical instructor, nursing supervisor, nurse recruiter, diabetes educator, and high school DMT instructor.She has worked with prenatal to geriatric hospice clients and everything in-between. Mrs. Hritz has been able to assist life coming into this world and help clients die with respect and dignity. Currently, she is helping develop our future health care providers.
Certifications

State of Ohio:  Registered Nurse (RN) License
CPR/First Aid Instructor
State Tested Nursing Assistant (STNA) Instructor
Ohio Department of Education:

Teaching License
Designated Master Teacher

Interests/Hobbies
I enjoy all kinds of activities with family, friends, and students. I enjoy my children's sporting events and scrap-booking.  I love the Health Occupation Students of America (HOSA) events with my students.  I love watching our students grow and develop and being involved with service projects like the Red Cross Blood Drive.