Bright Eyedeas Optical Clinic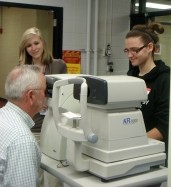 Students in the Optical Technology program work with a local Optometrist to provide eye exams and glasses for those in need.  Medina County residents with no health insurance are eligible for free comprehensive eye exams and glasses at MCCC Bright Eyedeas Optical Clinic.
Clinics are held Tuesdays between 2:00 and 6:00 p.m. approximately every 5 weeks during the school year.  Exams are by appointment only. If eligible, please call 330.725.8461 ext. 247 to schedule an appointment.