2019 CTE Presidential Scholar Semi-Finalist
Blake Kalina, Medina County Career Center
Program: Public Safety, Captain Dave Yorko, Instructor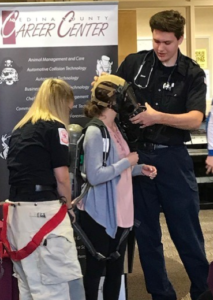 Blake Kalina is a senior in the Medina County Career Center's Public Safety Program and is earning college credits through Cuyahoga Community College. Blake continues to participate in Highland High School activities as a Varsity basketball player and DARE Officer, while also coaching youth basketball. Blake is a graduate of the Jr. Leadership Medina County Program and continues to grow his leadership skills by giving back to his community through a variety of activities. Blake's community service has included working with the Montville Township Police Department's MCPAL program, the Brunswick Hills Fire Department's community open houses and helping to run the Highland Safety Town Program each summer.
Blake's achievements include; maintaining a 4.28 GPA, ACT score of 33, Induction into Phi Theta Kappa, Cuyahoga Community College's Honor Society, Highland and MCCC Honor Rolls along with earning Scholar Athlete Awards and Academic Letters. At the Medina County Career Center, Blake earned his Basic Life Support and Occupational Health and Safety Certifications. Blake has concluded his clinical experience with the Cleveland Clinic and will complete his senior year at MCCC with his EMT and Fire II credentials. During his limited free time between school and sports, he enjoys being a member of the Medina Fire Department's Explorer program.
The Medina County Career Center could not be more proud of this young man. We are confident that he will excel in his post-secondary college work in neuroscience and health care.
About the CTE Presidential Scholar
The U.S. Presidential Scholars Program was established in 1964, by executive order of the President, to recognize and honor some of our nation's most distinguished graduating high school seniors. In 1979, the program was extended to recognize students who demonstrate exceptional talent in the visual, creative, and performing arts. In 2015, the program was again extended to recognize students who demonstrate ability and accomplishment in career and technical education fields. Each year, up to 161 students are named as Presidential Scholars, one of the nation's highest honors for high school students. Five Ohio CTE students are selected by the ODE State Superintendent as semi-finalists for the U.S. Presidential Scholars Program CTE category, and 20 finalists will be honored nationwide next Spring for their achievements and accomplishments in career-tech education.